Specialty Hospital Jacksonville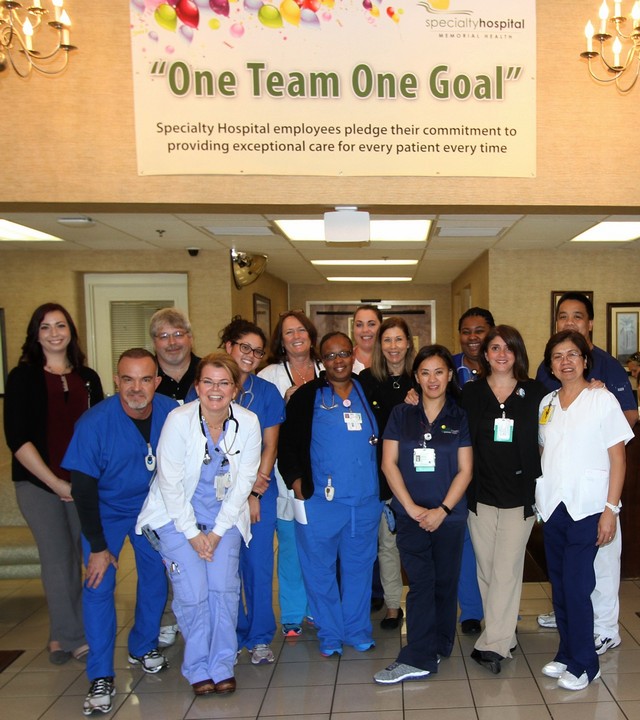 Specialty Hospital is a fully licensed and accredited long-term acute care hospital (LTACH) specializing in the treatment of the severely ill and medically complex patients in Northeast Florida and Southeast Georgia. It is the premier regional ventilator and tracheostomy weaning facility, the only one of its kind in Jacksonville, Florida and one of approximately 460 such hospitals nationwide. Specialty Hospital's vent weaning success rate in 2014 was 67%, which exceeds the LTACH regional average of 50%.
Specialty Hospital offers specialized, interdisciplinary, compassionate care designed to meet the needs of adult patients and their families in a medical environment that integrates healing and recovery. The services provided by Specialty Hospital complement other health care resources in the region and help patients achieve optimal health, independence, and a high quality of life through their recovery. They have approximately 300 physicians on staff covering nearly all specialties, all of whom provide a focus on recovery.
The population of Specialty Hospital is predominately the respiratory patient in need of ventilator and tracheostomy weaning. They also see a large percentage of patients that have had an ICU or CCU stay in the referring hospital and are in need of continued hospitalization for an extended period of time.
As part of Specialty Hospital's cardiopulmonary ventilator weaning service, Specialty Hospital has been using the Passy Muir® Speaking Valve with their vented and tracheostomy dependent patients since 1992. They follow a multidisciplinary team approach in the management of their patients and the implementation of the Passy Muir® Tracheostomy & Ventilator Swallowing and Speaking Valve. Their interdisciplinary team consists of Physicians, Advanced Practice Professionals, Registered Nurses, Respiratory Therapists, Speech Pathologists, Physical and Occupation Therapists, Clinical Dietitians, and Care Coordinators. Specialty Hospital's team works together to assist patients with their fullest potential recovery.
The American Association for Respiratory Care (AARC) recognizes Specialty Hospital for providing Quality Respiratory Care and ensuring patient safety by adhering to a strict set of criteria governing respiratory care services. In addition, Specialty Hospital is the first LTACH in the nation to become Sepsis Certified by the Joint Commission. By taking a lead in preventing and treating sepsis, Specialty Hospital is improving patient outcomes, elevating the standard of care and instilling confidence in the community it serves.
Policies and Procedures
Click here to download Specialty Hospital's – Tracheoscopy Speaking Valve Competency Check-off