Madonna Rehabilitation Hospital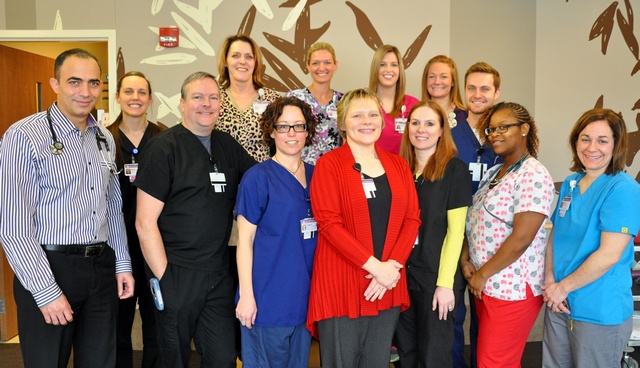 Madonna Rehabilitation Hospital, located in Lincoln, Nebraska, is one of the nation's foremost facilities for medical rehabilitation and research. Madonna is a national leader in specialized rehabilitation programs for traumatic brain injury, spinal cord injury, stroke, and pulmonary conditions for adults and children of all ages. Madonna is one of the largest independent rehabilitation hospitals in the country. Their team of highly specialized physiatrists, therapists, rehabilitation nurses, and clinicians work with the most advanced technology and equipment to help each person achieve the highest level of independence.
Their multidisciplinary team model incorporates the use of the Passy Muir® Valve to facilitate ventilator weaning and trach decannulation. Each ventilator and trach tube patient has standing orders on admission for co-evaluation by SLP and RT for placement of the PMV. The team at Madonna continues to improve the rate of vent weaning, decannulations, and decrease VAP rate.
Success Stories
Policies and Procedures
Click here to download Madonna Rehabilitation Hospital's Passy Muir® Valve Placement.
Publications and Presentations
Click here to download Madonna's Decannulation protocol.
Click here to download Madonna's Tracheostomy Tube weaning protocol.
Patients Requiring Tracheostomy and Mechanical Ventilation: A Model for Interdisciplinary Decision-Making
Madonna Rehabilitation Hospital-A Center for Excellence
Use of the Passy Muir® Valve for Weaning in Long Term Acute Care Hospitals
NALTH Summer 2012 Member Spotlight
The Inter-thoracic Connection: SLP Collaboration with RT and PT for Improving Breathing Mechanics
Guest Presenters for
Passy Muir

Special Event Webinars:
Interdisciplinary Decision-Making with Patients Requiring Tracheostomy and Mechanical Ventilation.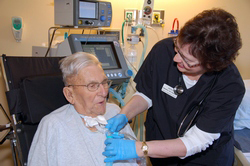 Patients with respiratory failure and distress are now surviving with the help of medical advances including tracheostomy tubes and mechanical ventilation. This course will provide clinical education on a model of an interdisciplinary flow chart that outlines a protocol providing objective criteria for patient tolerance of a Passy Muir® bias-closed position one-way valve, a critical step in the assessment of the patient's speech, voice and swallowing. To view the course, click here.
The Role of the
Passy Muir

® Valve in the Pulmonary Management of the Patient with a Spinal Cord Injury.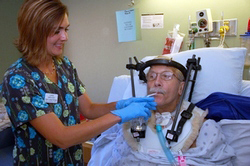 According to the National Spinal Cord Injury Statistical Center, there are approximately 12,000 new spinal cord injuries (SCI) in the U.S. each year. Regardless of the level of injury, respiratory function is compromised. This course will identify the four primary pulmonary impairments of a high spinal cord injury and demonstrate the role of the Passy Muir® Valve in their prevention and treatment. We will examine the use of the Passy Muir® Valve in successfully weaning patients with SCI from the ventilator and tracheostomy tube. To view the course, click here.