With our Toby Tracheasaurus Pediatric Program, children can experience a more lighthearted introduction to tracheostomy and the Passy Muir® Valve. Featuring a pediatric tracheostomy tube and a Passy Muir Valve for the purpose of demonstration and education, Toby Tracheasaurus® helps facilitate vocalization and enhances therapeutic activities.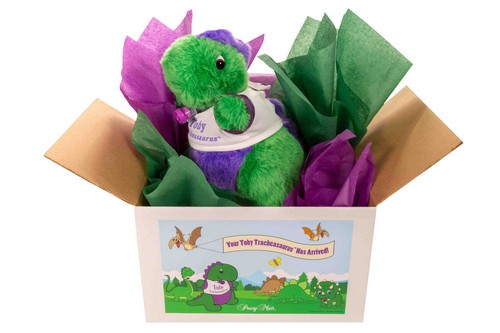 If you are a patient living in the United States with tracheostomy or mechanical ventilation using a Passy Muir Speaking Valve, send us a completed Toby Form and a photo of yourself wearing your Passy Muir Valve, and we will send you a free Toby Tracheasaurus Plush Toy!
You must be 18 or older to fill out this Toby Request form. If you are unable to complete the form yourself, please have your parent or guardian fill it out for you.
Unfortunately, due to customs regulations, we are unable to ship Toby Tracheasaurus internationally.
When filling out a Toby Request form, please provide a physical address, as we are unable to ship Toby Requests to a P.O. box.
---
---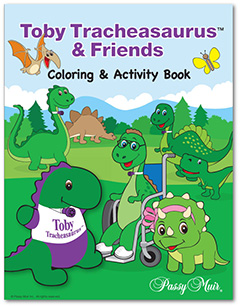 Toby Tracheasaurus™ & Friends Coloring & Activity Book
Toby Tracheasaurus & Friends Coloring & Activity Book is a teaching aid featuring an assortment of therapeutic and fun activities designed to help children voice and exhale orally when using a Passy Muir Valve. Many of the therapeutic activities referred to in the book may be performed under supervision with toys readily available at most stores.
---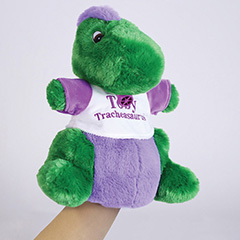 Are you a Caregiver or Therapist?
Toby Tracheapuppet™ Plush Therapy Hand Puppet is a therapist's best therapy tool and a child's best friend. Toby Tracheapuppet™ provides therapists and caregivers with a lighthearted method to introduce children to tracheostomy and the Passy Muir Valve.
On Sale For A Limited Time Only $39!