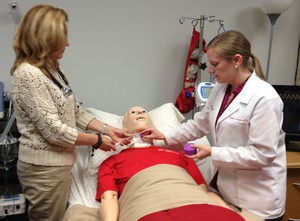 Clinical simulation has gained tremendous momentum in medical teaching programs and has been found to be a powerful and cost effective method of reinforcing clinical knowledge, improving team communication, and teaching decision-making skills. Passy Muir Clinical Specialists have been using simulation mannequins for many years to educate and train professionals from multiple disciplines on the proper assessment and application principles of the Passy Muir® Valve. BAYADA, a home health care company, has incorporated the Passy Muir® Valve into a simulation training program for their extensive healthcare professional team.
For over 40 years, BAYADA Home Health Care has provided nursing, rehabilitation, therapy, and assistance to children and adults in the comfort of their homes. BAYADA has more than 22,000 home health care professionals including nurses, therapists, aides, and medical social workers that work with patients across 22 states.
BAYADA has always recognized the importance of including education regarding the Passy Muir® Valve in their employee training. They observed the many devastating consequences of tracheostomized patients losing the ability to communicate, including increased risks for patient safety in the home, a significant decrease in patient independence and quality of life, and an increased burden on patient-caregiver relationships.
According to Heather Kuzara, RN, Director of the BAYADA North Carolina Simulation Lab, the benefits and instructions for using a Passy Muir® Valve were traditionally done using verbal lectures, videos, and simple handling of the Valve. In order to avoid potential serious complications of improper valve use, BAYADA knew they needed to prepare their nurses more and developed simulation labs as part of the company's education and training programs. These labs are equipped with lifelike simulator mannequins and computer software to offer the clinical team as well family members realistic client scenarios during hands-on training.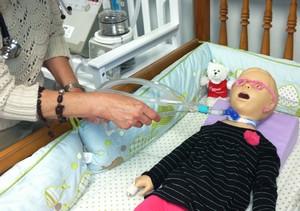 As a training exercise, a nurse practices suctioning technique on a pediatric simulation mannequin that is connected to a home care ventilator at the BAYADA Home Health Care Simulation Lab.
Through specially designed simulation activities, BAYADA provides training on assessment and application of the Passy Muir® Valve. The simulator mannequins act as patients in the lab and present with symptoms which prompt an assessment and intervention by the clinician. Examples of symptoms that are simulated include cyanosis, coughing, realistic lung and heart sounds, airway occlusion, and respiratory distress. Nurses and family members practice skills needed for evaluation and application of the Passy Muir® Valve including listening to breath sounds, deflating the cuff, suctioning, placing the Valve in the circuit, and adjusting the ventilator appropriately. Other specialized tracheostomy skills such as tracheostomy changes and administration of breathing treatments are taught as well.
Kuzara is happy to report that the simulation is a great success for Passy Muir® Valve education. She said that everything she tells the trainees about the Valve actually "clicks" when they get to practice with the mannequins, especially how to connect the Valve in the circuit and adjust the ventilator. She knows that this training will increase patient safety and decrease complications in the home.
From acute care to homecare, programs which incorporate simulation based training and interprofessional education could save the healthcare industry billions of dollars per year by improving the quality of patient care, reducing the number of complications, adverse events, and hospital readmissions. We hope that additional healthcare companies consider BAYADA as an exceptional model for training and education.
We would like to thank Heather Kuzara, RN, Director, North Carolina Simulation Lab (NCS) for her contributions to this article. For more information, you can contact her at hkuzara@bayada.com or visit http://www.bayada.com.