Post Acute Medical Specialty Hospital of Vegas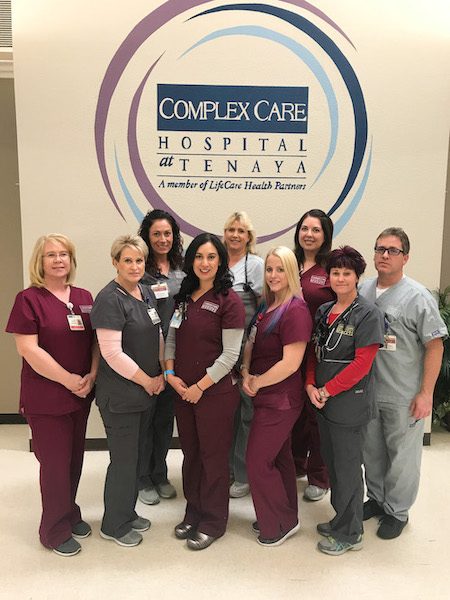 Post Acute Medical Specialty Hospital of Las Vegas, Nevada (formerly, Complex Care Hospital at Tenaya) is a 70 licensed bed long term acute care hospital (LTACH) that provides high-quality post-acute services that foster meaningful improvement and recovery for people with injuries, illness, and disabilities. Their hospital is Medicare certified and accredited by Joint Commission. They are recognized by the American Association of Respiratory Care (AARC) for Quality Respiratory Care (QRCR). This award places their facility in the 15% of hospitals in the United States that have received this honor.
They are passionate about giving their medically complex patients the best chance of recovery by providing early and aggressive intervention in the critical care setting. Their team includes physicians, nurses, pharmacists, dieticians, physical therapy, occupational therapy, speech therapy, respiratory therapy, and psychological therapy. They believe this transdisciplinary approach helps in the recovery process and each patient is seen as an individual with specific needs to achieve optimal recovery.
Their patients require intensive 24-hour care for an extended period. Many of their patients require the care of a speech-language pathologist, including a great number of ventilator and non-vented airway patients. Their facility has been utilizing the Passy Muir® Valve since its opening in 1999. The SLP team has built a great rapport with their respiratory therapists and pulmonologists, making the ventilator weaning and decannulation process successful. They believe It is important to get those patients, who are appropriate, using the Passy Muir Valve in order to promote effective communication, ventilator weaning, tracheostomy weaning, and improved swallow function; and it aids in the patients overall well being in their recovery process.
Their respiratory team, speech-language pathologists and pulmonologists meet daily to discuss the patient's progress and identify their needs for success. Their hospital has an 85% average vent weaning success rate.
Success Story
Policies and Procedures
Post Acute Medical Specialty Hospital of Las Vegas Policies and Procedures