St. Mary's Hospital for Children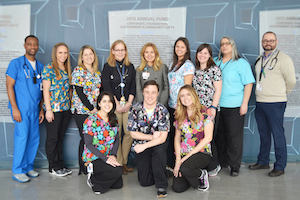 St. Mary's Hospital for Children is a 97-bed pediatric rehabilitation and long-term care facility located in New York state in Bayside, Queens. At this facility, they provide care for children from birth-21 years of age with multiple medical complexities. One reason children are referred to St. Mary's is for ventilator/respiratory support and weaning. They are New York's largest and most experienced provider of long-term care to children with medically complex conditions and New York City's only post-acute care facility for children. They are recognized around the world for the breadth of their services and the depth of their commitment.
The St. Mary's interdisciplinary team that cares for these children includes a pediatric pulmonologist, a pediatric otolaryngologist, pediatrician, respiratory therapist, nurses, and speech-language pathologists. Together, they evaluate children with tracheostomies for possible Passy Muir® Valve (PMV) candidacy, including both children with mechanical ventilator dependency and those with trach collar. Patients who are medically appropriate are evaluated for PMV use and then placed on a program with the SLP department for continued care and monitoring. The SLP department monitors each patient until they wear the Valve for a minimum of one hour. Once the child reaches this marker, transitioning to nursing staff use occurs so that a child begins to wear the PMV for all waking hours.
Success at St. Mary's is directly tied to the excellent transdisciplinary work that is provided, and to the contribution from all departments towards the carryover and implementation of the goals related to respiratory weaning and PMV use. At St. Mary's, the team strives for the highest level of care for their patients and pushes themselves to be the best in their clinical work. The team achieves this through facility-wide education to nursing and clinical staff on PMV safety, use, education, and support to caregivers. They also organize facility-wide continuing education on PMV use and how the Valve can further benefit the medically complex pediatric population.
Success Story
Policies and Procedures
St. Mary's Hospital for Children Policies and Procedures