CareOne Long Term Acute Care Hospital at Trinitas Regional Medical Center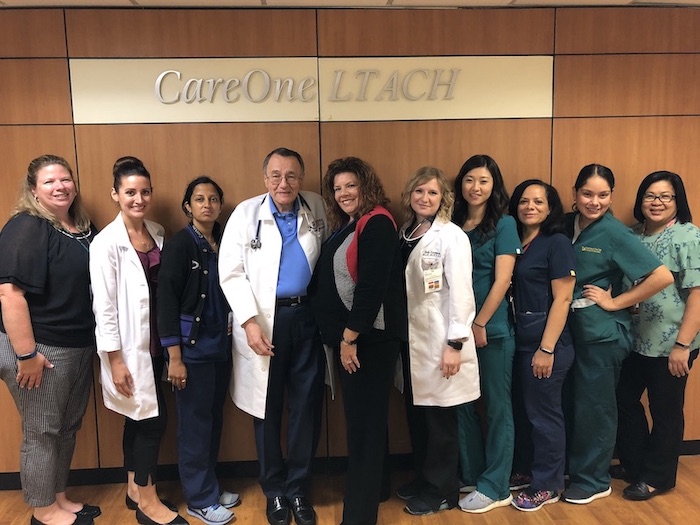 The CareOne Long Term Acute Care Hospital at Trinitas Regional Medical Center in New Jersey, a proud part of a family-owned and run company, has long proven to be a trusted name in healthcare. They offer services addressing acute, long-term, senior living, rehabilitation and hospice care striving for excellence in service for all the patients, families and communities they are privileged to serve.
The LTACH, an acute-care hospital division, is a specialized unit focusing primarily on pulmonary medicine. Each LTACH facility is located within a fully operational acute-care hospital ensuring immediate services can be secured for any purpose deemed necessary. This accessibility is imperative to ensure excellence in care. CareOne's state-of-the-art technology and highly skilled professionals are trained specifically to care for complex patients who require advance therapies. Their pulmonary and vent weaning programs are directed by well-respected, board certified pulmonologists who work hand-in-hand with the compassionate and experienced staff.
At CareOne, they emphasize the team approach in working towards optimal health, and this is especially true when working to wean a patient from the ventilator. Their staff collaborates with the patient to assess and find the best treatment plan. Their goal is to improve the quality of life for each of their patients, providing them every opportunity to get back to the life they value. They recognize the importance and benefits of including the Passy Muir® Valve as a step in the weaning process. Working together, they proudly deliver the best ventilator weaning outcomes of the tri-state area and beyond.
Success Stories
Policies and Procedures
CareOne LTACH at Trinitas Regional Medical Center Policies and Procedures for Vent-Dependent Patients
CareOne LTACH at Trinitas Regional Medical Center Policies and Procedures for Non-Vent Patients
Additional Documents
CareOne LTACH at Trinitas Regional Medical Center PMV Checklist
CareOne LTACH at Trinitas Regional Medical Center PMV Clinical Competency Checklist
CareOne LTACH at Trinitas Regional Medical Center PMV Troubleshooting Guide