Melodi Pirzada, MD, FCCP
St. Mary's Healthcare, Queens, New York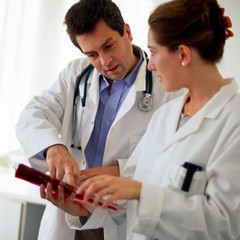 St. Mary's Healthcare System for Children is an organization that provides intensive rehabilitation, specialized care, post-acute care, and education for children with life-limiting and medically complex conditions. Established more than 140 years ago, St. Mary's Hospital for Children is a 97-bed inpatient facility, located in Queens, New York. With a family-centered approach, this facility provides medical daycare to children and young adults. It also provides early education for medical conditions, a multidisciplinary feeding disorder program, and a K-12 public school, which provides ongoing education to its long-term inpatients who may be admitted for several months or even years. The feeding program is designed for both inpatient and outpatient cases. Additionally, the hospital's home care program reaches nearly 2,000 medically fragile children each day throughout New York City and Long Island, making St. Mary's Hospital for Children one of the largest providers of long term home healthcare for children in the state of New York.
One specialty group within the hospital that requires a multidisciplinary approach is children who undergo a tracheotomy. More than 50% of the children at St. Mary's Hospital for Children receive a tracheostomy and suffer from chronic respiratory failure. Because of the tracheostomy, these children lose access to their voice as a means for communication. The procedure of a tracheotomy places a tracheostomy tube in the anterior of the neck, providing access for an artificial airway. Because a tracheostomy tube redirects airflow, the child has little to no airflow moving upwards through the vocal cords and out through the mouth and nose. Several disadvantages occur secondary to the tracheostomy. One of the disadvantages is losing the ability to vocalize because of the redirected airflow. Therefore, the Passy Muir® Tracheostomy and Ventilator Swallowing and Speaking Valve (PMV®) is used on all patients at St. Mary's Hospital for Children who meet criteria for wearing it.
Placement of the PMV occurs either in-line with ventilators or directly on the hub of the tracheostomy tube for spontaneous breathers. Use of the PMV not only helps with vocalization, but research also has shown that its use improves swallow function, respiratory secretion management, and expedites decannulation, among other benefits. Use of the PMV is initiated in patients where there is an air leak around the tracheostomy tube and relatively intact upper airway anatomy to allow the air to travel through the vocal cords.
Because our hospital staff and multidisciplinary team have seen the benefits of using the Valve with patients who have a tracheostomy, policies and protocols have been put in place to establish best practice for our facility. Hospital protocol requires clearance and physician order by an ENT or a pulmonary specialist, prior to initiation of the PMV assessment. Then, a multidisciplinary team approach, including a respiratory therapist, pulmonary attending, nurse, and a speech pathologist, provides a well-rounded assessment of the patient's abilities and needs.
Prior to the initial trial use of the PMV®, a transtracheal pressure (TTP) measurement is done while the patient is awake. If the measured pressure is less than 10 cmH2O, then the PMV is placed and the patient's vital signs (i.e. O2 Sats, HR, and RR) are monitored for five minutes. Once the patient tolerates the Valve for five minutes with TTP below 10 cmH2O, the pulmonologist clears the patient, and the nurses and speech pathologist follow the protocol for Valve use. After the initial assessment, the goal is to reach PMV use for all waking hours. Use during waking hours provides the patient with more opportunity to access the benefits related to secretion management, upper airway use, sensory stimulation of the upper airway, swallowing, voicing, and more.
At this time, the hospital protocol covers waking hours because the PMV is not recommended or approved for use during sleep. Because of the lack of research related to use of the Valve at night, a team of researchers from St. Mary's Hospital for Children and Winthrop University Hospital began investigating the use of the Valve at night. Researchers established a clinical study that was registered with the FDA. Results of the initial study were published in 2014 and entitled "The safety of tracheostomy speaking valve use during sleep in children: A pilot study" in the American Journal of Otolaryngology (Bazarra, et al., 2014).
At St. Mary's Hospital for Children, we aim to provide state of the art care for our patients. As a physician, I seek to provide evidence based practice, even conducting research to support our ongoing policies and protocols for PMV use. We continue to see the benefits of using the PMV with our patients both in practice and in research. As a physician, it is very gratifying to see my patients able to manage their secretions better. However, most significant in my daily medical practice, is being able to see them with a big smile on their face when they first hear their own voice. That moment is priceless.
This article is from the Fall 2017 Pediatric Issue of Aerodigestive Health. Click here to view Having a Protocol for Clinical and Research Use of the Passy Muir® Speaking Valve.